Barbara Rudner, DVM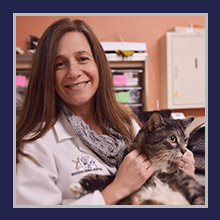 Why did you become a veterinarian?
I was always interested in medicine and loved animals. I worked in veterinary hospitals and volunteered in a human hospital when I was in college and was drawn more to veterinary medicine
What is your goal with every patient visit?
To provide the best care I can and communicate everything clearly to the owners in a compassionate manner.
Who makes up your family (pets and/or people)?
I am married and we have a wonderful daughter who is almost 8. We share our house with our Chihuahua min pin (Chipin) rescue.