Barbara Rudner, DVM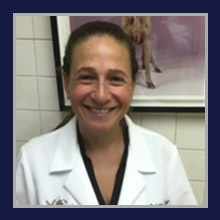 Dr. Barbara Rudner graduated from North Carolina State University College of Veterinary Medicine in May of 1997. She completed a preceptorship in soft tissue surgery and internal medicine at The Animal Medical Center in New York City in 1997.
Dr. Rudner has been practicing small animal medicine and surgery since 1997. She is excited to be joining the staff at Wantagh Animal Hospital and looks forward to providing excellent Veterinary care to our client's pets.
Dr. Rudner is a member of the AVMA, NYSVMA and LIVMA. She attends continuing education meetings regularly and takes a proactive approach to pain management and preventative medicine.
In her free time, Dr. Rudner likes to spend time with her family, travel,and cook. She is currently looking for a dog to rescue with her family.